Plibrico Refractory Services –
Midwest Operations
Check out our new location: Virtual Open House
Refractory Installation Services
Plibrico's Midwest Operations offer complete turnkey refractory installation services. Our experienced project managers are on-call to consult with you on your unique installation. We provide free inspections and prompt quotations; 24-hour emergency service is available.
Shotcrete and Castable Pumping
Refractory Demolition
Gunite
Plastic Gunning (HyRATE®)
Expert Firebrick Laying
Injectable Hot Spot Repairs
Plastic Ramming
Ceramic Fiber Installations
Grouting
Project Planning and Management
Castable Forming and Pouring
Furnace Door Refurbishment
Structural Service
Furnace Door Fabrication and Repair
Walkway & Handrail Fabrication & Repair
Furnace Car Fabrication and Repair
Ladle Lid Repair and Fabrication
Structural Steel Repairs
Mechanical Services
Furnace Door and Car Drive Repair
Exhaust Duct Fabrication, Repair and Installation
Equipment Upgrades and Installation
Plant Maintenance
Our fleet of dedicated trucks provides prompt local delivery of our complete line of in-stock refractory products.
Castables
Insulating Firebrick
Plastics
Metallic and Ceramic Refractory Anchors
Firebrick
Ceramic Fiber and Insulating Board Products
Service Mixes
Custom-Engineered Precast Refractory Shapes
Plibrico's Midwest Operations team is your solutions provider for quality, custom-engineered precast shapes. Formed to your exact specifications, our Redi-Shapes precast shapes are ready to install to reduce downtime and achieve lower repair costs. Our Redi-Shapes precast shapes are manufactured, cured and baked-out in our controlled conditions to optimize refractory properties and service performance.
Our custom-engineered precast shapes manufacturing capabilities include:
Lintels
Aluminum Troughs
Door Jambs
Dry Skid Block
Door Sills and Ramps
Wall and Roof Panels
Hearth Block
Burner Block
Replacement Tile Kits for Cleaver-Brooks Boilers
Plibrico Midwest Operations also offers aftermarket replacement tile kits for Cleaver-Brooks package boilers. Backed by our expertise in precast shape manufacturing, the Midwest Operations team is well-positioned to provide high-quality replacement tile kits that are designed and manufactured for a true fit.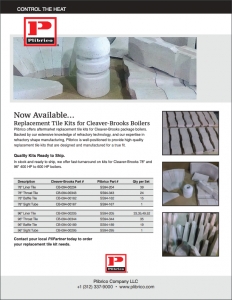 View Cleaver-Brooks Replacement Tile Kits Sell Sheet (PDF)
Plibrico's Midwest Operations provide refractory installation expertise in a variety of industries, including:
Steel
Boilers (all types)
Aluminum and Non-ferrous Metals
Incinerators (all types)
Minerals Processing
Facility Information & Location
32,000 sq. ft. facility including:
6,000 sq. ft. Redi-Shapes® manufacturing facility
15,000 sq. ft. in-house refractory installation capabilities
9,000 sq. ft. warehouse
Two crane bays with one 10-ton and two 5-ton cranes
Two 3″ and two 4″ refractory pumps
Refractory bake-out furnace
Check out our new location: Virtual Open House
---
Plibrico Company, LLC | 1935 Techny Road – Unit 16, Northbrook, IL 60062 | 312-337-9000 | contact@plibrico.com | © 2022 Plibrico Company, LLC All rights reserved.