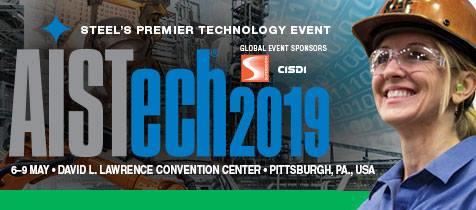 Location
David L. Lawrence Convention Center
Pittsburgh, Pa., USA.
Exhibit Hours
♦ Monday, 6 May • 9 a.m.–6 p.m.  (Welcome Reception 5–6 p.m.)
♦ Tuesday, 7 May • 9:30 a.m.–6 p.m.
♦ Wednesday, 8 May • Noon–4 p.m.
Registration
Register to attend AISTech 2019
The Iron & Steel Technology Conference and Exposition
AISTech 2019 — Steel's Premier Technology Event  will be held at the David L. Lawrence Convention Center, Pittsburgh, Pa., USA.  This event will feature technologies from all over the world that help steel producers to compete more effectively in today's global market. AISTech is a can't-miss event for anyone involved at any level of today's steel marketplace, providing perspective on the technology and engineering expertise necessary to power a sustainable steel industry. Whether you present, attend or exhibit, take advantage of this opportunity to network with industry peers and discover ways to improve your productivity.
Going to AISTech 2019?
Be sure to stop by our booth # 2427 to get your Truck Giveaway Ticket stamped and to learn more about our unapparelled refractories support and highly durable refractory solutions for steel processing.
Not going to AISTech 2019?
Call us or e-mail us.
We'll contact you to discuss how our refractory solutions can improve efficiencies and decrease downtime.
(312) 337-9000